Class DiskImageSoftwareEnvironment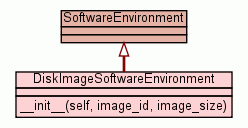 ---
Reprents a software environment encapsulated in a disk image.
When a lease's software environment is contained in a disk image, this disk image must be deployed to the physical nodes the lease is mapped to before the lease can start. This means that the preparation for this lease must be handled by a preparation scheduler (see documentation in lease_scheduler) capable of handling a DiskImageSoftwareEnvironment.
Inherited from object: __delattr__, __format__, __getattribute__, __hash__, __new__, __reduce__, __reduce_ex__, __repr__, __setattr__, __sizeof__, __str__, __subclasshook__
Inherited from object: __class__
__init__

(

self

,

image_id

,

image_size

)
(Constructor)

source code
Constructor.
Arguments: image_id -- A unique identifier for the disk image required by the lease. image_size -- The size, in MB, of the disk image.
Overrides: object.__init__